Hovězí Plátky na Houbách – Beef with Portobella Mushroom Sauce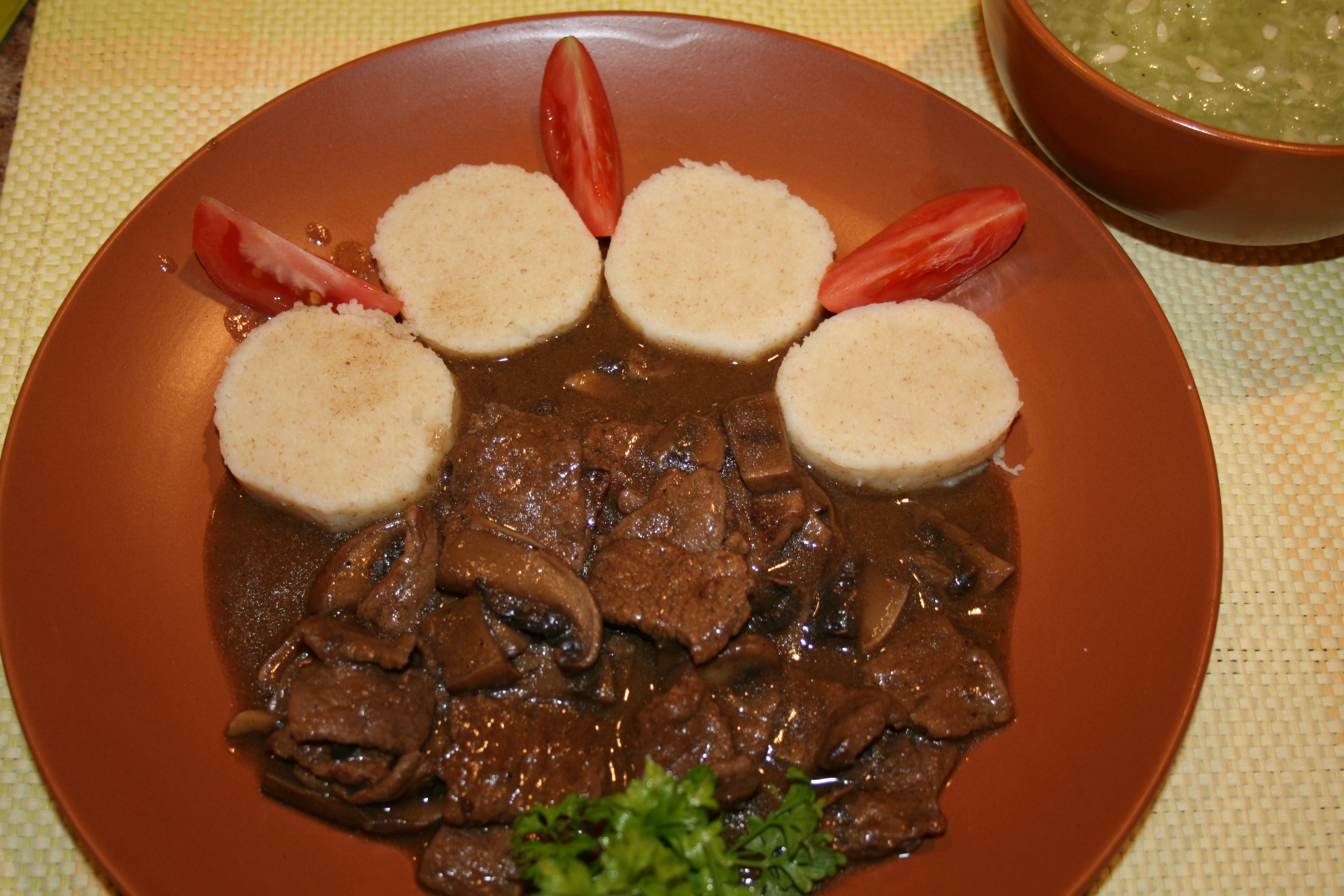 Serve with Potato dumplings.
May be also served with rice or Bread dumpling.
In a medium pot heat oil, and sate onion until you reach gold color.

Cut the meat into smaller, thin pieces. Add the meat to the onion and stir. Let all the pieces turn brown and then add salt, bouillon, pepper, and ½ cup of water. Stir together.

The step you are about to do is very important; it will effect the color and flavor of the final gravy. Turn the heat to high and let all the water evaporate. Let the meat stick to the bottom of the pan. Watch it closely and don't let it burn. You will know it is ready when you stir the meat aside and the meat will move, but will leave brown coating on the bottom, and won't be easily scraped.

Now it is time to add another ½ cup of water. Repeat this technique 2 more times. After the third time, add again the ½ cup of water.

Prepare the mushrooms. Use only the heads. With a damp paper towel wipe the tops of the mushroom heads. Slice the mushroom into thin slices. Add the mushrooms to the meat along with 1 cup of water, and let simmer covered for 5 minutes.

Add another 1 tsp of salt and 2 cups of water. Bring to boil, cover with lid, and turn down the temperature to medium low.

Simmer for 20 to 30 minutes or till the meat is tender. According to how much water is left you may have to add another cup of water before thickening the gravy.

In ½ cup of water mix 2 Tbs of flour, and add to the meat. Stir and cook for 2 more minutes.